My final, third year project in which I proposed to reclaim the original intention of modernist architect Ludwig Mies van der Rohe's celebrated Farnsworth House; that is, as a place of retreat (2014).
A complete 3D model of the Farnsworth House was built in Sketchup, using plans and information gathered during the research stages. This model was then used to generate both concept and final rendered images, with textures and detail overlayed in Photoshop.

Preliminary exploration into the materiality of the Farnsworth House, focusing on the levels of transparency and their relationship to the designation of spaces within the house
Titled 'Reclaiming the Retreat,' this self-written brief enabled me to put into practice the theoretical research I had undertaken during my degree, and explore how the expression of identity – the forging of a connection between space and self – plays out within the interior spaces of the Farnsworth House.
'The Farnsworth House may have approached Mies van der Rohe's ideal conception but it seems to have been a mismatch with that of Dr. Farnsworth and her reasonable desire to inhabit her own house… the Farnsworth House paid scant regard to the physical or psychological needs of its human inhabitant.'
Simon Unwin "Farnsworth House." (In Twenty Buildings Every Architect Should Understand)
The Farnsworth House, Plano, Illinois USA (Images sourced from web)
My chosen site, located one hundred kilometres southwest of Chicago, on the banks of the Fox River in Plano Illinois, exemplifies the disparity between compelling, Modernist architecture and the need for the occupant to feel a sense of belonging within interior space. Designed as a weekend retreat for Dr Edith Farnsworth in 1951, this predominantly glass structure speaks of transparency and a connection to its surroundings, but fails entirely to consider the needs of a human occupant to connect with the space. Consequently, the Farnsworth House was never the comfortable, quiet weekend retreat Edith had envisaged.
With this in mind, I proposed to transform the Farnsworth House into a writer's retreat, and this brief considered and explored the ways in which interior design could work within the language of both architecture and literature. My intention was to create a space within which an individual is able to establish a sense of place, through a connection to their environment, and therefore shape a sense of self and belonging within interior space.
Existing floor plan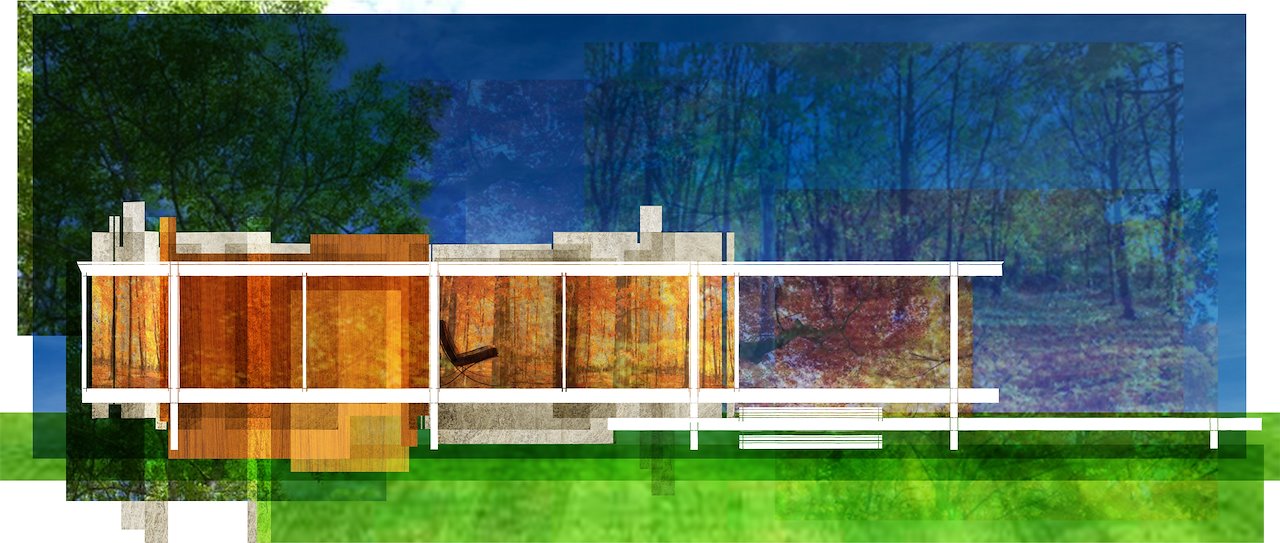 Collage exploring the connection between the house and it's environment; inspired by a 1939 collage by Mies van der Rohe.
Using a handmade scale model to investigate the notion of a second architectural element within the existing framework; exploring both horizontal and vertical planes and apertures informed by the existing structure.
Section drawing showing changes in floor level
Concept image exploring how the use of screens within my added architectural element can provide both privacy and connection to the existing structure and surrounding environment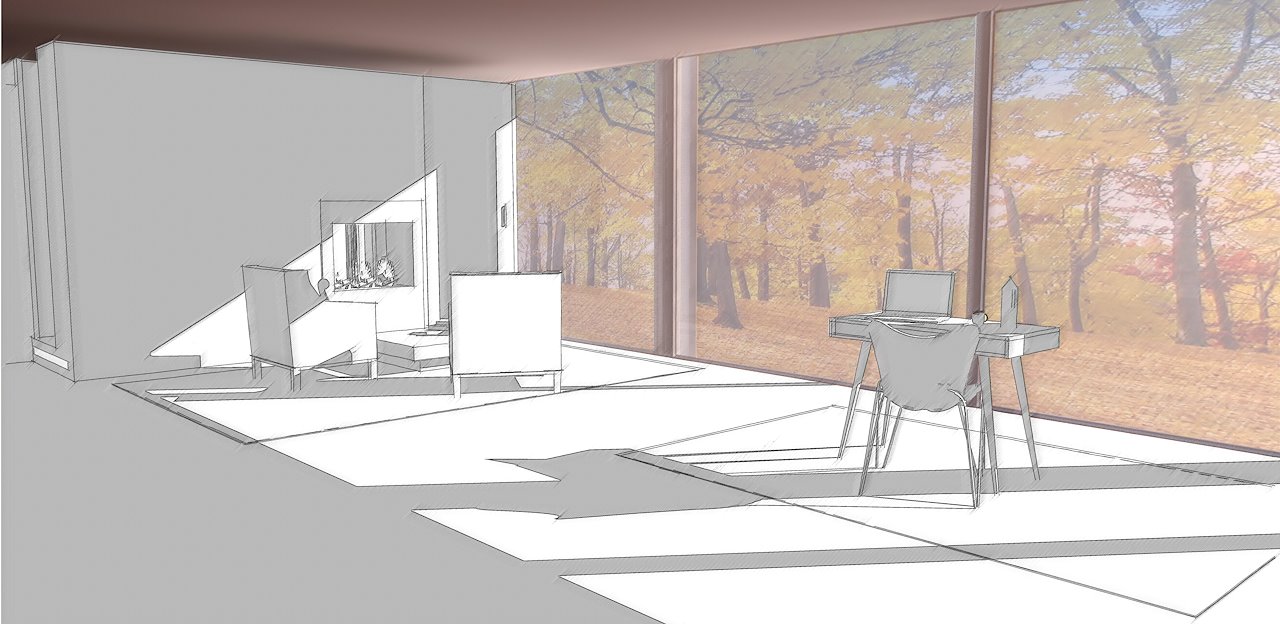 Concept view of lounge space with screens open to the existing structure
Concept image of the study space showing closed semi-transparent screens. This image also looks at the idea of Mondrian inspired panels in the screens, to throw softly coloured light into the lounge space
This design brief allowed me the opportunity to explore aspects of my own interest in interior space, beyond a purely physical and architectural level. I believe that there is a dynamic relationship between people and their environments, that there is a symbolic and psychological nature to the way in which we inhabit our interior spaces: I am interested in the ways in which we, as individuals, mark out space, establish our identities and ultimately forge a sense of being and belonging with the architectural constructs we come to acknowledge as home.
Proposed floor plan
Final rendered view of the lounge, kitchen and study spaces. Render is a composite image using Podium software and a pencil drawing generated from my Sketchup model
Final composite rendering of the bedroom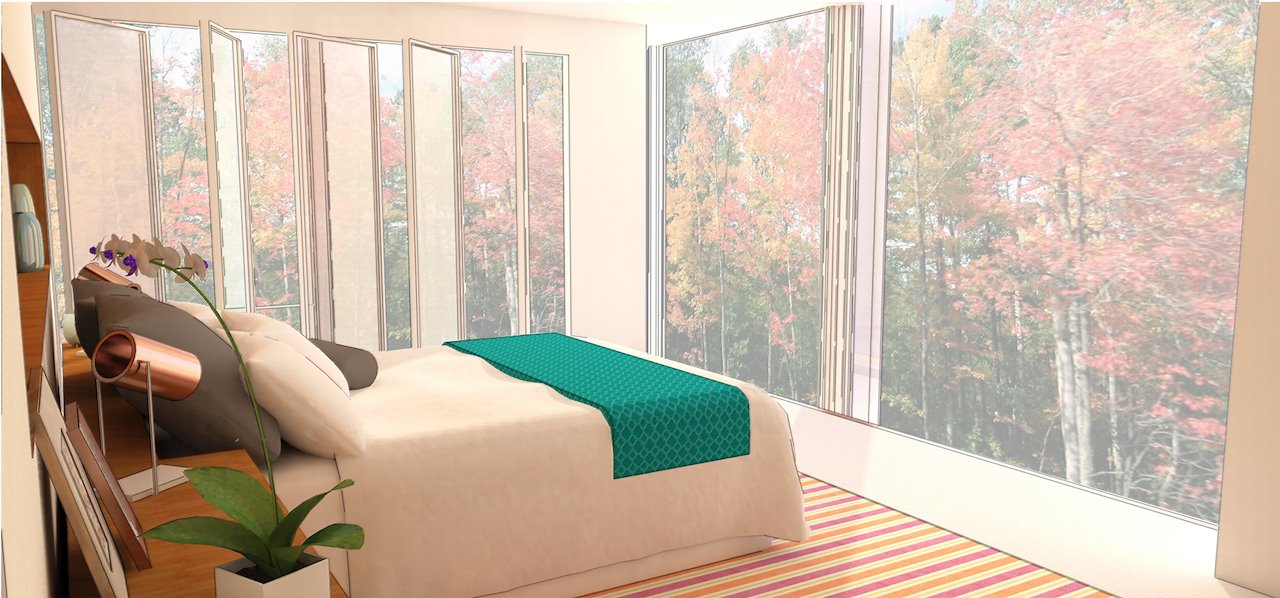 Composite render of the bedroom, showing how the new spaces interact with the existing structure and environs when the semi-transparent screens are folded away
Final composite render of the bathroom
To be creative a person must exist and have a feeling of existing… Creativity is then the doing that arises from being."
Donald Winnicott, Psychoanalyst