In this second year brief we were tasked with designing a retail space within an existing site in St Kevin's Arcade, Auckland (2013).
Handmade scale models of my chosen retail space were built from plans provided. A 1:50 scale model was used to explore various design iterations, while a 1:20 scale model of my final design was constructed in order to produce photographs which could then be used to illustrate how my retail space concept would integrate with both site and product.

Details from handmade 1:50 and 1:20 scale models
Following careful analysis of our chosen retail brand, in this case Australian Company Dinosaur Designs, a visual essay was generated. I was inspired by several pieces from the Dinosaur Designs collections; the fractured shapes of their vases, the many layers of their plates and bowls, and in particular the Dream Cloud Platter which reminded me of dyed agate crystal slices. This visual essay was then used to guide and inform our design process.
Inspiration taken from Dinosaur Designs Dream Cloud Platter (L) and Dream Liquid Mythical Vases (R)
Photographs of dyed Agate slices used to generate visual essay
Reflecting on the manner in which Dinosaur Designs products are made – liquid resin cast in clay molds, I began to think about the brand with regards to nature and the intense colours of natural minerals: the many layers, fractures and facets of crystals, of nature's 'casting' process; the breaking apart of rocks, like molds, to discover the beauty of the crystals within.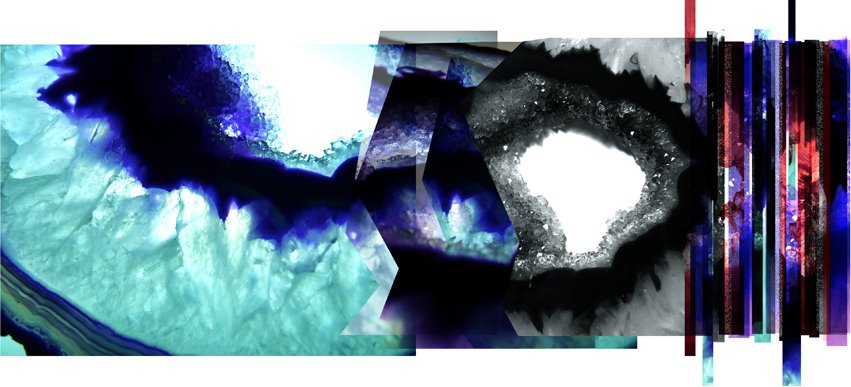 Visual essay
Joinery maquettes
Design iterations using 1:50 scale model
My final design aimed to re-awaken a sense of awe and discovery within the consumer and features a display system which entirely inhabits the space, providing an exciting shopping experience and a dramatic backdrop in which to showcase the work of Dinosaur Designs.
1:50 scale model iteration
1:20 scale model of final design
Interior shop view integrating Dinosaur Design pieces within my design; Photoshop was used to overlay the products, textures and figure into a photograph of my 1:20 scale model
Interior view of retail space